SKU:MB7062-100
Ranges from 20cm to 765cm with a 10Hz read rate. Pulse-width, analog voltage, and RS232 serial. Reports range to closest target. Uses a stability filter.
Regular price
Sale price
$99.95 USD
Unit price
per
Sale
Sold out
Discounted pricing is shown in the cart.
| Quantity | Discount |
| --- | --- |
| 5-9 | 5% |
| 10-24 | 10% |
| 25-49 | 15% |
| 50-99 | 20% |
| 100+ | 25% |
View full details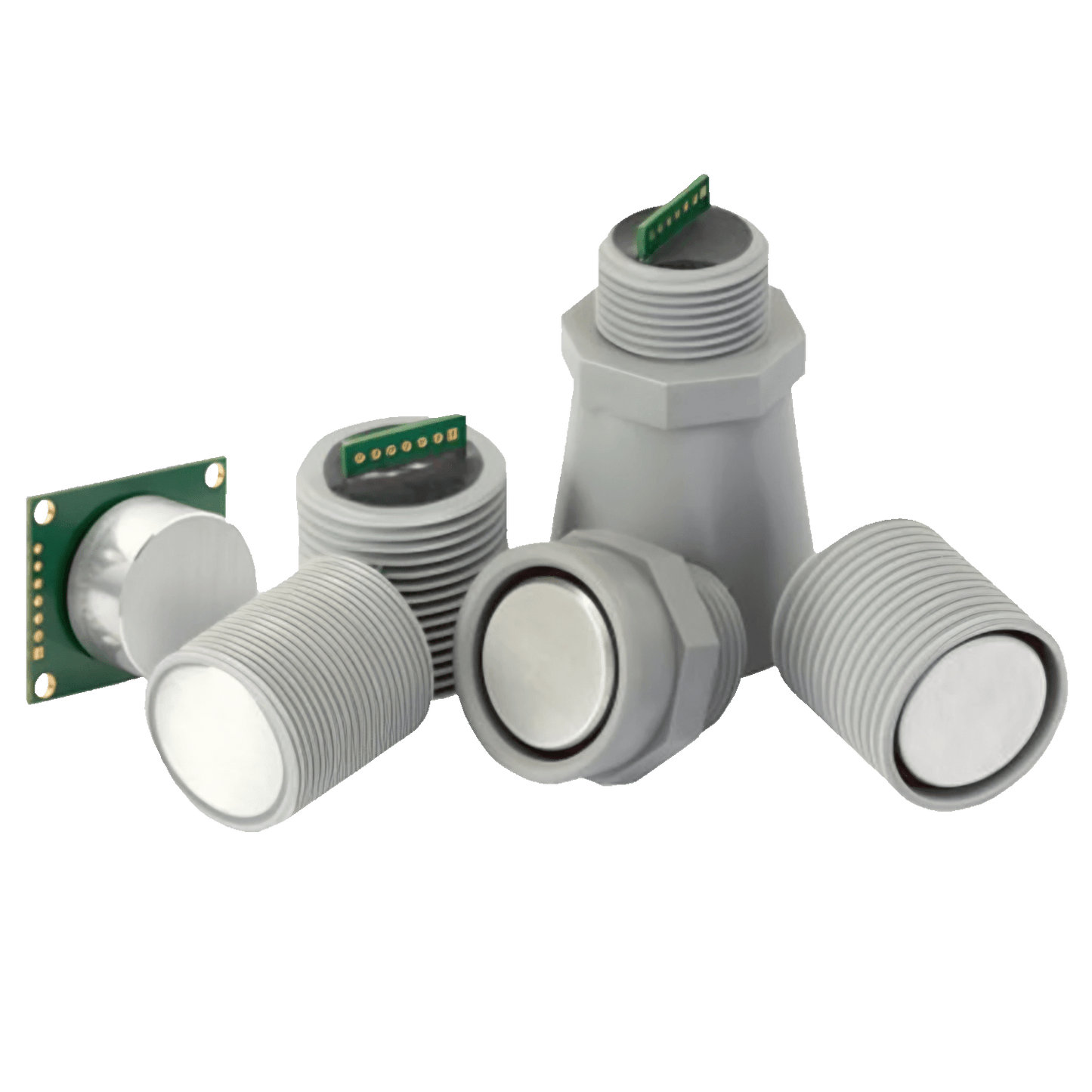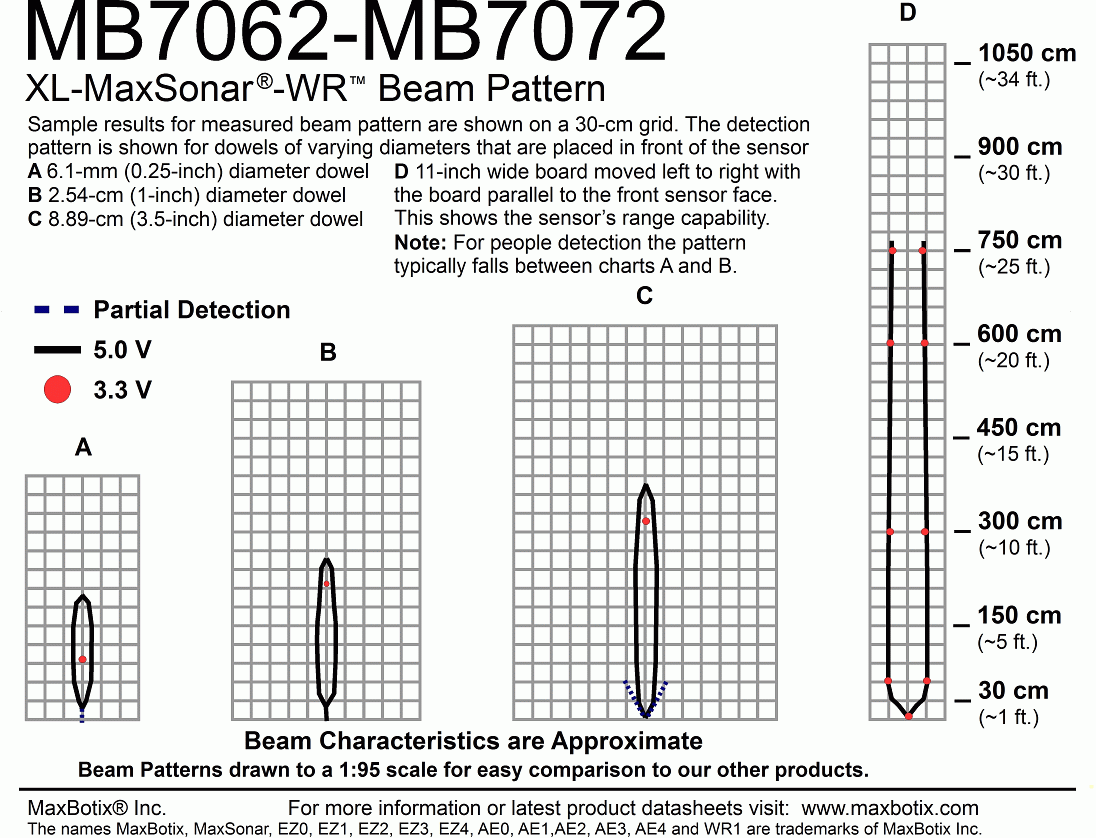 Collapsible content
Description

Features of the weather-resistant MB7062, XL-MaxSonar-WR1, include centimeter resolution, short to long-distance detection, range information from 20cm to 765cm for the nearest detectable target, a 10Hz read rate, and various output options: pulse-width, analog voltage, and RS232 serial.

The MB7062 from the XL-MaxSonar-WR line of outdoor sensors is a rugged ultrasonic sensor component module. This sensor comes in a compact and robust PVC housing that meets the IP67 water intrusion standard and matches standard electrical 3/4‑inch PVC pipe fittings (this product has multiple housing options available).

The XL-MaxSonar-WR sensors are factory calibrated to match narrow sensor beam patterns and provide reliable long-range detection zones.

The MB7062 is designed with a stability filter to help prevent sudden large changes in range readings.

In addition, the MB7062 offers virtually noise-free distance readings through the use of high-output acoustic power combined with continuously variable gain, real‑time background automatic calibration, real‑time waveform signature analysis, and noise rejection algorithms. This holds true even in the presence of many of the various acoustic or electrical noise sources.


Variations on this sensor model

MB7072 is the analog envelope version of this sensor.
MB7060 is the base level version of this sensor.


Models with additional chemical resistance are available

The F-Option (IP68) design modification provides our weather-resistant sensors with extra protection against corrosive chemical environments. Ask for the F-Option (IP68) when ordering.
Specs

Resolution of 1 cm
10Hz read rate
42kHz Ultrasonic sensor measures distance to objects
RoHS Compliant
Read from all 3 select sensor outputs: Analog Voltage, Serial, Pulse Width
Operates from 3.0-5.5V
Low 3.4mA average current requirement
Small, lightweight module
Designed for easy integration into your project or product
Operational Temperature from -40˚C to +70˚C (-40˚F to +160˚F)
Real-time automatic calibration (voltage, humidity, ambient noise)
Firmware filtering for better noise tolerance and clutter rejection
200,000+ Hours Mean Time Between Failure
Weather Resistant (IP67), optional Chemical Resistant F-Option
Matches standard electrical 3/4-inch PVC pipe fittings for easy mounting (3/4″ National Pipe Thread Straight)
Additional stability filter rejects occasional anomalous readings
Maximum range of 765 cm (300 inches)
Long range, narrow detection zone
Documentation

Documents

Chemical Compatibility

Review our Chemical Compatibility notes to learn about our compatibility in different environments. Please contact our Technical Support team with any questions about chemicals not listed.

Email: techsupport@maxbotix.com

Product 3D Models

100 Housing (Full Horn Housing)


200 Housing (Compact Horn Housing)


300/400 Housing (Ultra Compact Horn Housing)


500 Housing (1″ BSPP Housing)


600 Housing (1″ NPS Housing)


700 Housing (30mm 1.5 Housing)


Housing 3D Models

Full Horn Interior Flush Mounted Housing

Compact Horn Exterior Mounted Housing

Compact Horn Interior Flush Mounted Housing
Part Numbers
All MaxBotix part numbers are a combination of a six-character base followed by a dash and a three-digit product code. The following table displays all of the active and valid part numbers for this product.
Active Part Numbers
MB7062-100
MB7062-101
MB7062-110
MB7062-111
MB7062-120
MB7062-121
MB7062-130
MB7062-131
MB7062-200
MB7062-201
MB7062-210
MB7062-211
MB7062-220
MB7062-221
MB7062-230
MB7062-231
MB7062-300
MB7062-320
MB7062-400
MB7062-401
MB7062-410
MB7062-411
MB7062-420
MB7062-421
MB7062-430
MB7062-431
MB7062-500
MB7062-501
MB7062-510
MB7062-511
MB7062-520
MB7062-521
MB7062-530
MB7062-531
MB7062-600
MB7062-601
MB7062-610
MB7062-611
MB7062-620
MB7062-621
MB7062-630
MB7062-631
MB7062-700
MB7062-701
MB7062-710
MB7062-711
MB7062-720
MB7062-721
MB7062-730
MB7062-731